I would like to take a few moments of your time to share an experience I had with some of our Virginia locals. These locals I speak of are the men from Charlie Company Marine Reservists stationed out of Lynchburg , Virginia .
These gentlemen were on a training mission on the evening of Thursday, June 10th, 2004 in downtown Lynchburg preparing and sharpening their urban patrolling skills because their battalion has been activated for duty in Iraq .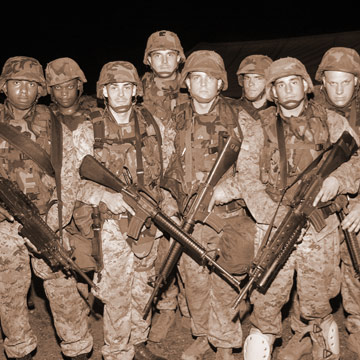 I had the opportunity, nay the privilege and honor to walk alongside these young men during their training exercise. I was pleased to hear comments from motorists passing by with "good job", "good luck" and owners and patrons of local businesses voicing their appreciation for these young men. But I was surprised (and yes I suppose a little naive) to learn that there are those out amongst us who ridicule, show their displeasure at the sight of proud marines in fatigues and military gear, and basically disapproving of what these men, as well as tens of thousands of others like them, doing their duty to protect us. I am surely not one to say that I am an activist for anything, but I would love to see world peace come about and that is what these fine men are a part of and trying to accomplish for all of us, even without the support they should be receiving from ALL of us Americans.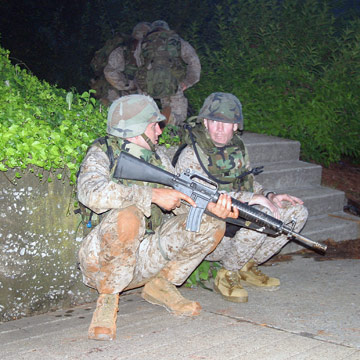 I went with these marines as they walked the streets, climbed through buses and crawled across the ground. I learned much from Staff Sergeant Dreaning in the hour I spent with these men watching and listening. These marines have so much to contend with and be completely mentally alert to be aware of their surroundings listening for the slightest of sounds, the quietest of movements and knowing that at any moment, they could be attacked and defending their lives with every ounce of knowledge received from the rigorous training they have received.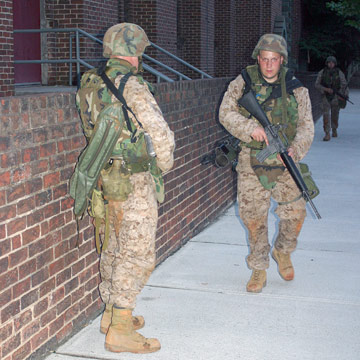 I observed as Staff Sergeant Dreaning watched and evaluated Sergeant Hodgson on this mission. Dreaning was careful to watch Hodgson manage his men as they walked along in training and he was pleased to know that he could truly count on this young sergeant with his life as well as others and to get the job done.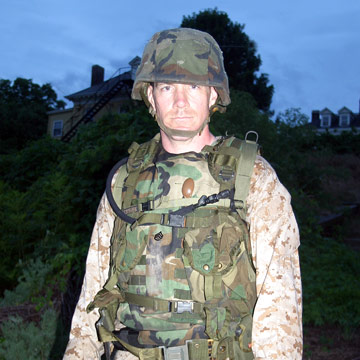 I can say I walked a mile with these marines, but not a mile in their shoes. I felt such warmth in my heart to be so close to those preparing to join others to protect myself as well as every other warm-blooded American in our country. For a short while, I could place myself in their surroundings and found myself listening, watching an even crouching down between trees and behind bushes. This was definitely an experience I will never forget and I will always treasure. Thank you gentlemen for allowing me this privilege.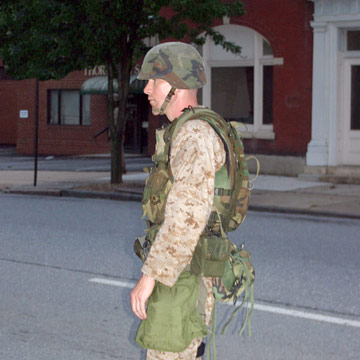 After their training session was completed, I asked if I could possibly photograph the group or some of these men to share with you. From the bottom of my heart, I thank these men for their endurance, loyalty, pride, honor and survivorship. May God bless and keep these men in their endeavors to protect us from harm. In sincere appreciation, support and admiration, I humbly bow to these men and all the others defending our country and lives.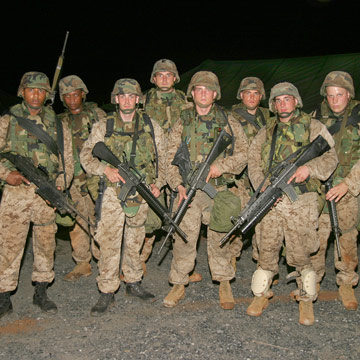 Thank you.
With warmest regards,
Lisa Marie